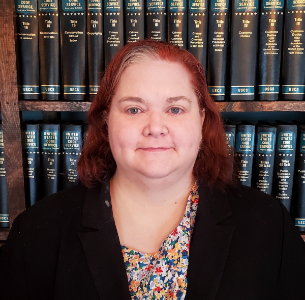 Title:
Associate Attorney
Veronica D. Armstrong
Veronica is a native of Zanesville, Ohio, and obtained her bachelor's degree from Denison University. Veronica spent a combined 16 years in education and child welfare before returning to school and graduating with honors from Capital University Law School. Veronica is currently focusing on criminal and family law, but anticipates branching out into probate law and appeals, over the next few years.
Veronica is also deeply committed to advocating for access to justice and mental health awareness. Veronica currently lives in Zanesville, with her husband Keith, but looks to relocate to the Logan County area over the next few months. In her non-working hours, other than commuting, Veronica is a passionate (and slightly rabid) sports fan, particularly supporting The Ohio State Buckeyes, the Miami Dolphins, and all things hockey. Veronica is an Irish music and a cappella enthusiast and a lover of animals, great and small; one of her deepest desires is to have her own English Bulldog to take to www.bullybash.org.